Frequently asked questions
FAQ - Frequently asked questions
1.     How can I book my room in your house?
The simplest way to book a room in our accommodation is through our website. Under the menu item RESERVATION you´ll find a questionnaire - please fill in accordingly and send us a request. You can also send us an  e-mail  and inform us about your reservation details  like arrival-departure, number of guests, requested room type etc. Please take it into account, that your booking request sent online or by e-mail is still not a confirmed reservation, until you get a confirmation of your reservation from us.
2.     Do I have any costs in advance by booking my room?
You have the opportunity to make your reservation  in our accommodation with a credit card guarantee, which doesn´t mean any immediate payment, because we do not charge your credit card in advance;  we will just pre-authorise your card the amount to cover the room rate for the stay. Further information about pre-authorizing. We do not share your information with third parties, those are for our internal use only. Our company guarantees your privacy.
3.     Which information you need for my reservation?
In order to book your room, we need your credit card information and your own coordinates like reservation name, email-address, telephone number, address, number of guests, arrival and departure dates. Re. your credit card we need the name, the credit card number, the expiry date and your CVD code on the back of your card (the reverse side with your signature). Not every credit card types have such a code like this.
4.     How do I pay for my reservation?
You  pay for your accommodation at the hotel directly upon arrival, in cash or by credit card.  If you want to pay in cash, you have the choice to pay in Euro or in Forint. Since our room rates are quoted in Euro, therefore, if you pay in Forint, the actual selling rate of the daily exchange rate of our bank will be taken as basis. If you use your credit card, you are able to pay in Forint, we are at your service with our Forint card terminal. Please inform us in advance in case you need a company invoice and please kindly supply us with your company coordinates in order to prepare your invoice as soon as possible.   
5.     What is the check-in time at the house?
Irrespectively of your arrival, the check-in at our hotel is always after 02.00 p.m.  Until this time we have the chance to clean up all of our rooms perfectly, after the previous guests left them.  Of course when you arrive earlier than 02.00 p.m., you can leave your luggage in our luggage room,  but your check-in  to your room will be still possible only after 02.00 p.m.. We can suggest you some good restaurants, cafés,  places of interest or a sightseeing tour, so that you feel, that you spent these hours of waiting also very useful.  It is possible to ask for an early check-in for  additional costs.  Normally it costs 50 % of the room rate per night.  In case you would need an early check-in, please write us a message and we can help you as far as we can.  During your check-in at the house you will receive your magnetic room key card and we supply you with all those useful information you need regarding your room and the hotel (hotel rules, questionnaire etc.). We supply you also with brochures and with all other information regarding Budapest you need to know about the city.
6.     When and how can I check out?
You have to check out of your room on your travel day until 11.00 a.m. latest. It is also possible to check out later, but only for additional costs, normally 50 % of the daily room rate, but please inform us in advance about it, because we can confirm your longer stay only in that case, when our occupancy allows it.
7.     Is it possible to pick me up at the airport upon arrival?
Yes, we have an airport pick up service, you´ll find detailed information under the SERVICE menu at Airport transfer. This service has additional costs, which is not included in your room rate. Please ask for further information in advance by email, how to book your airport transfer, respectively please supply us with your airport arrival date and time, so that our colleague can wait for you with a sign in his hand (with your name on it) at the airport arrival level.  
8.     What is included in my room rate?
In your room rate are included: towel, bedlinen (for the number of persons arrive), bath-mat, cleaning service, unlimited free WiFi access for your entire stay, free use of our LCD TV in your room with 52 channels.
9.     Is it possible to get better rates, when we would like to book for more than 10 persons or when we would make a booking for a longer stay?
Yes, it is possible in both cases! Please contact our colleague via email: sales@houseoctogon.com  and you´ll get detailed information about your discount.
10.    What to do in case of  complaints?
Even when our staff will attempt to give you the best possible service, it can happen, that you are not 100 %-ly satisfied with something. In all these cases, please ask our reception desk or call our sales colleague under the telephone number +36 20 779 0666 and they will try to help you immediately. Your satisfaction is our pleasure!
11.    Is it possible to change my arrival date and time or the number of participants?
Yes, it is possible to change your arrival date and time or the number of  the partipants, but please, do this right in time, write us an email to  sales@houseoctogon.com, otherwise it can happen, that the modification comes too late, causing you additional costs. Further information you´ll find under the menu  General Conditions.
12.    What about my cancellation costs?
If  you cancel your reservation more than 5 days  before your arrival date, there is no cancellation fee.
If you cancel your reservation  in less than 5 days, the rate for the first night will be charged.
In case of a no show or no-cancellation, the amount of your full stay will be charged.
If you just want to modify or cancel your reservation, please write us an email with your reservation number and give us all your details, what do you wish to change or cancel.  
13.   Is is possible to visit your place in advance before booking?
Yes, you can certainly visit us before booking, it makes no difference, whether for yourself  or for any other corporate client of yours you would wish to book.  In order to make your appointment with us, please do not hesitate to call our sales colleague under the telephone number  +36 20 779 0666 or  send us an email to  sales@houseoctogon.com.
14.   Where can I park my car (when arriving by car)?
The Oktogon multi-storey car park is one our contracted partners - here in the 8th and 9th level we have parking spots for our guests. Please note that the parking has additional cost which is 15 eur/day/car. In case you need navigation help, please call our colleague at the reception desk  (+36 20 779 0666)  15 minutes in advance, before your arrival at our house. He will gladly escort you to the car park.  Map help: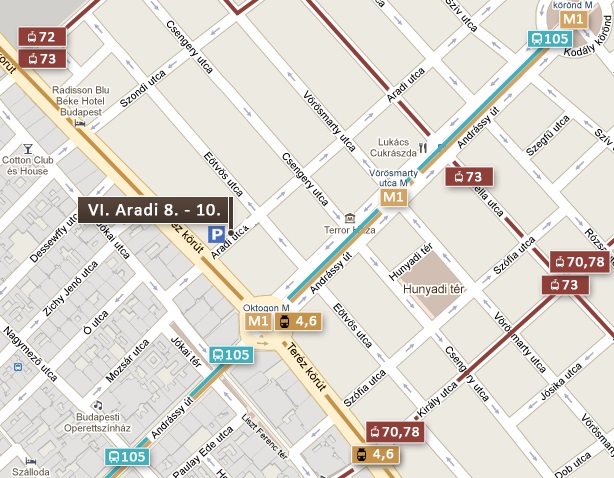 15.   What to do, if my room key card has been lost?
Please call our reception desk by phone under the number  +36 20 779 0666 immediately or send us an email and we cancel your card without delay. But to prepare a new card will cause you an additional cost of 50 euros.
House Octogon

1067 Budapest, Eötvös utca 11 / A.
Mobil: +36207790666
Skype: octogon.house
E-mail: info@houseoctogon.com
GPS Coordinates:
Lattitude: 47.5054137 (N  47°   30′   19.49″)
Longitude: 19.0651849 (E  19°   3′   54.67″)
© Copyright 2013 House Octogon